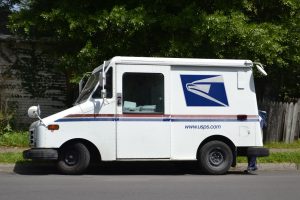 A postal clerk in Florida allegedly stole mail and passport applications in what federal prosecutors are calling an identity theft scheme. 
The 30-year-old Ruskin woman was arrested Monday, according to court records. Last week, a federal grand jury in Tampa charged the woman with aggravated identity theft, conspiracy to commit bank fraud, and theft of a postal key.
According to the indictment, while working at a St. Petersburg United States Postal Service the woman allegedly conspired with others in a scheme to defraud financial institutions that are federally insured. She is accused of opening mail addressed to other people and taking pictures of personal information. She apparently did this with other people's U.S. passport applications as well, according to officials. 
The woman allegedly then sent the photographs of personal information and passport applications to other co-conspirators to be used in a bank fraud scheme, according to investigators.
The indictment further charges the woman with taking restricted postal arrow keys and then passing them off to co-conspirators. These master keys give access to open mail boxes and banks of mailboxes at various locations, such as apartment complexes.
Identity (ID) theft is committed when another person steals your personal information with the intentions of committing fraud. Identity theft is one of the most frequent crimes prosecuted in the state of Florida, and those that are charged with this type of white collar crime face very serious penalties, including years behind bars and significant fines. 
When it comes to identity theft schemes, sometimes people get wrapped up in these criminal enterprises without fully understanding what they are involved in. It is not at all uncommon for people accused of ID theft crimes to have no intentions of hurting others when they just made an honest mistake. This is where our Tampa Bay White Collar Crimes Defense Attorneys at Whittel & Melton come in. We can explain your side of the story and show that you were possibly a victim of a larger crime and taken advantage of. We can work with the prosecution to negotiate the best possible deal where you can avoid a felony conviction and time behind bars. However, if this is not possible, we are fully prepared to take your case to trial. 
Our Tampa Bay White Collar Crimes Defense Attorneys at Whittel & Melton have years of experience handling criminal cases involving identity theft and related charges. As former prosecutors, we know what defense strategies can defeat these charges and result in minimal consequences. We also know how serious the State takes these crimes and what they will do to obtain a conviction. The stakes are very high in these cases, but we can help you understand your rights and how best to proceed with your defense. It is important to understand that the government will pursue these charges aggressively and has virtually limitless resources at their disposal. This is why you need a criminal defense attorney that is equally as aggressive fighting in your corner to secure your freedom. 
We know that identity theft charges can be stressful and leave you feeling scared and uncertain of your future. That is why it is absolutely vital to the outcome of your case to secure legal representation as soon as you are accused of a white collar crime of this nature. Economic crimes can be successfully beat, but you must have a strong defense strategy. Every case is different, but we are happy to speak with you in a free consultation to discuss the details of your case. We can answer your questions openly and provide you with the honest feedback you need.