A 49-year-old man was sentenced in Tampa federal court Wednesday to six years and six months in federal prison for his apparent involvement in what officials say was a $400,000 nationwide postal stamp hustle. 
According to court records, the man pleaded guilty to theft of government funds in September 2019. In addition to the prison time, the man has been ordered to repay the proceeds of the theft – $405,935.76 in total.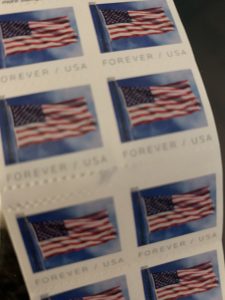 Prosecutors believe the man used fake checks to buy stamps at various United States Post Office locations in Florida as well as Arizona, Alabama, Connecticut, California, Georgia, Illinois, Kentucky, Louisiana, Massachusetts, Mississippi, Maryland, New Jersey, New York, Nevada, North Carolina, Ohio, Pennsylvania, Rhode Island, South Carolina, Texas, Tennessee, and Virginia. 
Prosecutors said the man resold the stamps to stamp traders and other businesses. They also said the man used fictitious names when purchasing stamps as well as the identity of a deceased person. 
Prosecutors claim the man started his stamp scam in November 2016 and continued with it until his arrest in New Mexico in May 2019. 
If a federal agent with the Federal Bureau of investigation (FBI), the Drug Enforcement Agency (DEA), the Internal Revenue Service (IRS), the Bureau of Alcohol, Tobacco and Firearms (ATF) or the secret service, please understand the severity of the situation and that you could be the target of a federal investigation. 
If you think you are under investigation by a federal agency or have been contacted by a federal agent, then the first thing you should do is seek immediate legal representation with a federal criminal defense attorney. Our aggressive Florida Federal Criminal Defense Lawyers at Whittel & Melton are well equipped to take on your case in order to keep your rights protected and fight for your freedom. If you are the subject of a federal criminal investigation, then you need to act fast and start building an effective defense. You should contact us right away so that we can begin helping you immediately. 
What Makes a Federal Case Different from a State Case? 
State prosecutions involve local law enforcement who work on tight budgets and resources, and the federal government has virtually unlimited money, time, and other resources at its disposal. Federal cases receive a lot more attention than State ones and often move through the criminal justice system much faster. 
With that said, federal prosecutors are usually much more experienced as opposed to their State counterparts and federal prosecutors only take on cases they are confident that they will win. Federal investigators usually spend a large amount of time investigating these cases and collecting evidence, so preparing a strong federal criminal defense can be a daunting task.  
How Will I Know if the Federal Government is Investigating Me?
Different from State criminal prosecutions where suspects are not usually notified that they are under investigation for a crime, federal prosecutions will usually send their suspects letters to let them know that they are being investigated. 
Any notice of a criminal complaint or an indictment will also serve as notice that you are the subject of a federal criminal prosecution. As we said before, any notice that you receive should be taken seriously and you should retain legal counsel as soon as possible. 
On a similar note, if you are contacted by law enforcement executing a search warrant at your home or place of business, you should also seek legal counsel right away. 
Why Do I Need a Federal Criminal Defense Attorney? 
You need valuable legal advice and guidance if you are the target of a federal investigation. Before you respond to the federal government to try and clear your name, you should have a federal criminal defense lawyer on your side at the early stages of the investigation so that you do not say anything that could betray your own interests. Many people try to talk their way out of criminal charges, which can do more harm than good. There is quite simply no substitute to having a federal criminal defense lawyer guide you and advocate on your behalf.  
We cannot stress this enough: federal law enforcement agents are trained to get you to talk. They will deceive you into making harmful statements and they are trained effectively to get the information they want. Do not think for a second that speaking with federal law enforcement directly with no lawyer present will be to your advantage.  Continue reading