A former Hillsborough County teacher and coach has been arrested for the second time facing more allegations of child molestation, according to the Hillsborough County Sheriff's Office.
The 33-year-old ex-teacher and former volunteer coach was arrested Wednesday on new charges stemming from a football player who has accused him of sexually abusing him more than 50 times between 2017 and 2021. The former volunteer coach has been released on bail.
The man was initially arrested last month after being accused of inappropriately touching a child and showing pornographic images to the child at the school where he was a teacher.
For the March 24 arrest, he is facing five counts of lewd or lascivious molestation and three counts of selling or distributing obscene material to a minor.
The new charges tacked on are three additional counts of lewd or lascivious molestation and one count of an authority figure soliciting or engaging in lewd conduct with a student.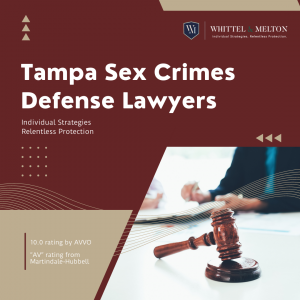 Our Tampa Sex Crimes Defense Lawyers know all too well how false allegations or exaggerated claims of sexual abuse can quickly get out of hand and lead to serious criminal charges. If you are a coach, teacher, youth pastor, youth counselor, or any other person in a position of authority over minors and are accused of a sex crime, then you must take legal action immediately and secure an attorney equipped to defend your legal rights. You want to get ahead of these charges as the alternative is unforgiving and extremely harsh consequences.
Our Sex Crimes Defense Attorneys at Whittel & Melton have handled thousands of criminal matters throughout the state of Florida, including child molestation charges, sexual assault charges, sexual abuse charges, Internet solicitation charges, sexual battery charges, rape charges, and more. If you have been arrested for a sex crime in the Tampa Bay area, then the clock has already started ticking on how long you have to establish the best possible defense strategy and clear your name. We can launch an immediate investigation into the charges against you and determine what evidence the prosecution has against you. We can make sure your legal rights and best interests are protected and keep you from making any further incriminating statements or admissions to police. We strongly urge you to speak to us before you even think about talking to police.
When you are facing charges of criminal sexual abuse or molestation against a minor, then you must act fast and enlist the help of a lawyer who you can trust and rely on. Sex crimes charges are severe – your life is on the line. Public defenders have heavy caseloads and cannot give your case the personalized attention it deserves, but we can. Take your legal matters seriously and consult with us in a free consultation today. Contact us now to get started.