A teacher for the Pasco County School district has been arrested and charged with custodial authority sexual battery on a student.
The Pinellas County Sheriff's Office launched an investigation into the 32-year-old man on January 2, 2022, after they received information about an alleged inappropriate relationship between the male teacher and student.
The alleged incidents took place when the student was 14-years-old.
The police uncovered that the alleged sexual relationship began through communications on social media, which escalated into inappropriate sexual activity that took place between 2017 and 2018 while the student was a middle school student. The accused was the alleged victim's teacher at the time.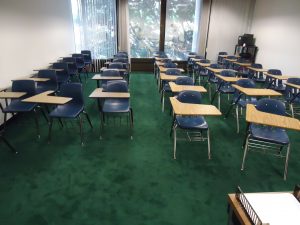 Teachers accused of sex crimes are in for the fight of a lifetime. Your career and reputation are on the line and your freedom is in severe jeopardy. These charges must be taken very seriously and you need legal representation right away. Teachers are considered having a bond of trust with their students, which is why a custodial authority committing sexual battery is a serious charge. Custodians can be teachers, scout masters, coaches, babysitters, day care workers, foster parents, etc. When charged with such a serious offense, you must have experienced legal counsel fighting in your corner so that a strong defense can be established for your unique charges.
If you have been charged with a sexual battery offense, then we strongly recommend calling our Pasco County Sex Crimes Defense Attorneys at Whittel & Melton as soon as possible so that we can talk to you about what has transpired. We want to hear your version of events so that we can piece together the best possible defense strategy for you. We can take depositions of all parties involved and look for any discrepancies in their testimonies to help with your case. We can advise you of all your legal options and help you understand your best options. We can take your case all the way to trial, but if we feel that your case cannot be won, we may advise to work towards a plea deal with the prosecution. Our goal is to achieve the best possible outcome on your behalf. Sex crimes cases are fact specific and results will depend on the facts of your specific case.
Our Pasco County Sex Crimes Defense Attorneys at Whittel & Melton are here to help you fight the charges stacked against you. We will provide you with a free consultation and advise you of what we think your best options and legal strategies are. We will provide you with real and honest feedback that is judgement free. We will not sugarcoat the truth and will make sure that you are fully aware of all of the potential consequences. Call us now at 727-847-2299 for help with your sex crimes charges in New Port Richey, Dade City, and elsewhere in Pasco County.