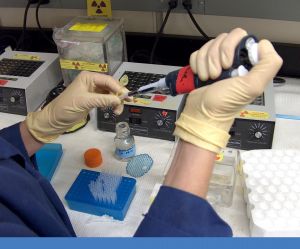 Police arrested a former Massachusetts chemist on Friday for allegedly lying about the true results of drug evidence that she analyzed while working at a state police lab, which has roused concern about thousands of criminal cases.
The 34-year-old was arrested in her home in Franklin, Massachusetts. She is accused of obstruction of justice and pretending to hold a master's degree in chemistry from the University of Massachusetts.
According to reports, the former chemist apparently confessed to misconduct over the course of her nine years of employment with the Department of Public Health.
Her work with criminal evidence, including any case she may have touched from 2003 until she left in March, is currently under investigation. Massachusetts authorities claim that it's possible that she may have touched 60,000 samples that were involved in 34,000 drug cases.
Police will be reviewing the sentences of 1,140 people currently behind bars after being convicted with evidence at least partly provided by the woman.
The woman's former co-workers at the William A. Hinton State Laboratory in Jamaica Plain clued state police in about the woman's alleged unreliable work.
During this time, state police were in the process of taking over a lab that had previously belonged to the Department of Public Health, which certified random drug tests for the police departments in Norfolk, Suffolk, Middlesex and Bristol counties, and Cape Cod and the nearby islands.
Police claim as they were getting ready to take over the drug laboratory, they spoke with other employees who were afraid to verify the woman's work.
The lab was shut down by Massachusetts Gov. Deval Patrick on August 30.
Believe it or not, forensic laboratories can make mistakes that can ultimately affect defendants all over the country. Due to possible flawed lab results from the state of Massachusetts, those convicted of drug crimes in Florida could have received enhanced penalties as a direct result of a previous Massachusetts drug conviction. It is important to realize that faulty or even fabricated evidence can place innocent lives in danger of false convictions. Despite how long ago the lab test was conducted, any doubt at all must be thoroughly investigated and any evidence previously admitted at trial must be reevaluated.

The Florida Criminal Defense Attorneys at Whittel & Melton are equipped to handle situations in which individuals are accused of or charged with various drug crimes. If you or someone you love was convicted of a drug crime in Florida and received enhanced penalties because of prior acts from Massachusetts being unfairly counted against them, a Motion for Resentencing can be filed. Contact us online or dial us statewide and toll-free at 1-866-608-5529 to see how we may be able to help you.