The High Springs Police Department and the Alachua-Gainesville Drug Task Force uncovered what they believe is a methamphetamine lab last week while investigating a case of fraud.
HSPD was investigating a 34-year-old man for alleged fraudulent use of a credit card when they received a confidential tip that the man had methamphetamine inside a cooler at or near a home in High Springs, according to reports.
HSPD went to the man's home after obtaining a narcotics search warrant. They arrived at the man's house around 8 p.m. Wednesday and allegedly found a cooler on the north side of the residence containing items used for cooking methamphetamine.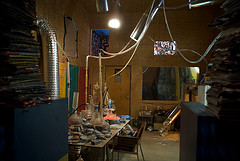 The Alachua-Gainesville Drug Task Force helped execute the warrant and the High Springs Fire Department was on scene for safety reasons.
The man was in the custody of the Alachua County Sheriff's Office before the investigation began of the drug charges. The man is now facing additional charges of possession with intent to manufacture or sell a controlled substance.
In the state of Florida, possession of a controlled substance with intent to sell, manufacture or deliver can be classified as a second or third degree felony. The charges all depend on the type of substance involved. The consequences of a conviction for this type of drug charge are extremely harsh, with a very significant possibility of jail or prison time.
It is important to realize that in many Florida drug possession cases, the accused does not have any actual intent to sell the drugs in question. The term "intent to sell or manufacture" is usually added to simple possession charges in order to increase the penalties of an offense or intimidate the accused.
In most cases, the evidence admitted by the prosecution for charges of possession with intent to sell or manufacture are consistent with personal use. Paraphernalia found on the property is often used to tack on additional charges. However, it can be difficult for the prosecution to prove that the accused was in possession of all the drugs and/or paraphernalia that indicated an intent to sell.
If you have been accused of or charged with possession with intent to manufacture or sell a controlled substance, an Alachua County Drug Crimes Defense Lawyer at Whittel & Melton can help you fight these charges. There may be many viable defense options available to you that could minimize the penalties of these charges or dismiss them entirely. For a free initial consultation, please call us today at 352-264-7800 or contact us online.