An Illinois man is accused of trying to use a fake debit card at a SunTrust bank, according to Boca Raton police.
An email was apparently sent to bank employees warning them of the 23-year-old man after he allegedly attempted to use the card at other branches, according to a Boca Raton police arrest report.
Reports indicate that a card scanner was placed at the back of the bank, so when the man tried to add more than $1,000 on one of his fake debit cards, an employee could easily call police.
The alleged attempted transaction happened at 11:46 a.m. on Thursday when a teller at a SunTrust Bank reported that the man was in the lobby of the bank trying to use one of the fake debit cards.
The teller had already received several emails from other SunTrust banks, warning her that a man was trying to use fake debit cards at other banks.
The teller told the man there was insufficient funds and they couldn't give him the money, according to reports. When an officer arrived, she claims the man was walking through the bank's parking lot and she stopped him for questioning.
The teller told the officer that the man came to her window and handed her a NetSpend Visa debit card and asked for a cash advance on the card of more than $1,000.
A detective apparently called a NetSpend representative who said the numbers didn't match any of their cards.
The officer who questioned the man said he told her he got the card in Chicago.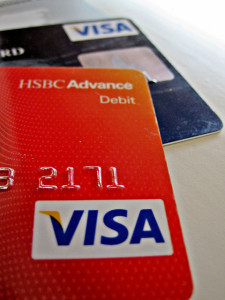 Police allege that the NetSpend card had information stolen from a woman in Utah. Police also claim they also uncovered a Visa NASCAR debit card in the man's car with information belonging to a person in Texas, according to the report.
The man faces charges of fraud, grand theft, possession of counterfeit credit cards, and forgery of credit cards. He is being held in the Palm Beach County Jail on $30,000 bail.
A Counterfeit is a copy or replica of an item, usually legal tender or currency, but can also be associated with clothing, software or other tangible goods. Additionally, counterfeiting may be used in the commission of credit card fraud. This occurs when credit cards are recreated or copied in order to make fraudulent or unauthorized charges. Counterfeiting is considered a white collar crime in which an individual or organization will create counterfeit items, usually with the intention of selling these or passing them off as originals. When it comes to money, a conviction for counterfeiting can result in a prison sentence of up to 15 years, along with hefty fines. Counterfeiting charges are aggressively prosecuted by federal prosecutors.
Regardless of the specific counterfeiting or fraud charges you face, it is important to consult with a federal criminal defense attorney as soon as possible. By acting fast to consult and hire an attorney, you give yourself the best possible chance at a successful outcome for your case. Counterfeiting charges are quite serious, and federal agencies and prosecutors will do their best to achieve a conviction and will likely push for maximum penalties. Our White Collar Crimes Defense Lawyers at Whittel & Melton will actively assert your rights, and fight for your future. Call us today at 561-367-8777 or contact us online for a free consultation.