Deputies with the Martin County Sheriff's Office arrested two men suspected of running a drug operation out of their home in Stuart last week.
The two men, 40 and 49, are currently being held at the Martin County Jail.
The Martin County Sheriff's SWAT Team, TAC Team and Special Investigations Division served a warrant on the Stuart home on SE Amherst Street in the Golden Gate neighborhood on July 21. According to reports, authorities apparently discovered drugs, guns and thousands of dollars in cash.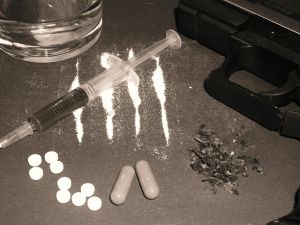 One man was charged with two counts of possession of a controlled substance with intent to sell, manufacture, deliver or use and one count of possession of cocaine with intent to sell within 100 feet of a park or daycare.
The other man was charged with possession of a firearm by a convicted felon, possession of a controlled substance and possession of drug paraphernalia.
Drug charges can range from relatively minor offenses all the way to very serious federal offenses. While drug crimes can vary in severity, they all have one thing in common – these charges can negatively impact your life forever. As former prosecutors, our Martin County Criminal Defense Lawyers at Whittel & Melton have witnessed firsthand just how a drug crime conviction can damage a person's life. A conviction for a drug crime can result in imprisonment, heavy fines, suspension of your driver's license, difficulties finding employment, probation, mandatory rehabilitation and ruined financial opportunities in the future all because of a mark on your criminal record.
Whether you are facing drug charges related to marijuana, cocaine, prescription drugs or meth, these charges can have a devastating impact on your freedom, future and career. If you or someone you love has been charged with a drug crime in Stuart, Palm City or Jensen Beach, it is extremely important to consult with a Martin County Criminal Defense Attorney at Whittel & Melton in order to avoid any impending damage to your future.
We can carefully examine your case and review any evidence against you to find useful information that can be used to pressure the prosecution into reducing the charges against you or dismissing them entirely. If law enforcement failed to follow proper protocol, this can also be used as leverage during negotiations and at trial.

In certain cases, individuals accused of drug crimes may be able to avoid criminal proceedings by seeking alternative sentences, like court-supervised drug counseling programs. If you are eligible for alternative sentencing, a Martin County Criminal Defense Lawyer at Whittel & Melton can help you pursue that option.
If you or a family member has been charged with a drug crime in Stuart, Palm City or Jensen Beach, contact a Martin County Criminal Defense Lawyer at Whittel & Melton today at 561-367-8777 for a free consultation of your case.