The Florida Department of Agriculture and Consumer Services arrested three people on Friday in connection with alleged illegal telemarketing operations in central Florida.
According to the agency, an investigation into three companies following a series of consumer complaints revealed the businesses were operating illegally. The owners of the three telemarking companies were arrested.
One of the agencies operating out of Kissimmee is suspected of defrauding 12 people of more than $500,000. The 34-year-old owner was arrested and charged with several offenses, including grand theft and exploitation of an elderly person or disabled person. The man was booked into the Osceola County Jail.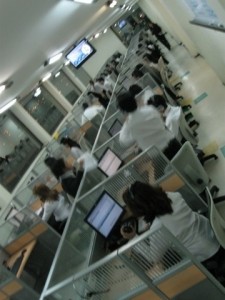 A 30-year-old business owner was arrested and booked into the Orange County Jail. The FDACS claims this particular company was unlicensed to conduct commercial telephone sales. The business allegedly employed 12 unlicensed commercial telephone salespersons. The owner was charged with 12 counts of employing unlicensed commercial telephone salesperson and one count of commercial telephone solicitation without a telephone sales license, all of which are third-degree felonies.
The third person arrested, is a 48-year-old Sanford man who owns an Altamonte Springs company. Investigators claim that three unlicensed people were found working at his business. The man was charged with three counts of employing unlicensed commercial telephone salesperson and booked into the Seminole County Jail.
In an effort to prevent consumer fraud, law enforcement agents are constantly investigating telemarketing companies. The restrictions on telemarketing companies are quite strict and the laws are always changing, so if you are accused of telemarketing fraud of any kind you must act fast to protect your rights. Whether you are accused of operating a telemarketing scheme or are found to be in non-compliance with current laws and regulations, an Orange County Criminal Defense Attorney at Whittel & Melton can help you build a powerful defense for state or federal charges.
If you or a family member has been charged with telemarketing fraud in the Central Florida area, you need to speak with a criminal defense lawyer immediately. An Orange County Criminal Defense Lawyer at Whittel & Melton can represent you throughout criminal proceedings and focus on your best interests while fighting against the accusations. The penalties associated with telemarketing fraud can be quite harsh, including jail time, heavy fines and a permanent criminal record. Our main goal is to minimize the criminal consequences and preserve your business interests. For a free case evaluation to learn more about how we can help you, please call us at 866-608-5529.