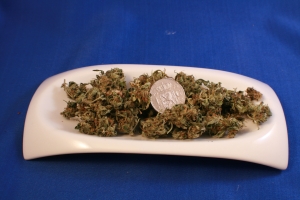 Holiday, Florida – Pasco deputies and federal agents raided a synthetic marijuana laboratory last month seizing 440 pounds of materials, including 100,000 packages of alleged synthetic pot.
The raid was conducted as part of a national investigation with the Drug Enforcement Administration focusing on the synthetic drug industry.
Pasco Sheriff Chris Nocco claims that the Holiday lab was shipping products throughout the country. He believes the business was purchasing drug components from China and then spraying them with chemicals before packaging them for sale.
According to police, a large amount of the components that make up synthetic marijuana are illegal, but makers of the drug have found a way around this issue by using alternative chemicals.
The Sheriff's Office believes that the materials snatched in the raid are illegal ones. The chemicals are being tested, but no arrests have been made as of yet.
Synthetic marijuana has been on law enforcement's radar for more than two years now, and while the chemical formula changes constantly, so does the law regarding the buying and selling of this drug commonly referred to as K2, Spice, Sunami or Scooby Snax. Currently, the delivery, manufacture, sale or possession of synthetic pot is a third-degree felony in the state of Florida. However, it is important to note that the possession of less than 2 grams of this drug is classified as a first-degree misdemeanor.
Florida Attorney General Pam Bondi along with Florida legislatures have worked aggressively since the drug first appeared on the mass market in 2009 to ban the numerous chemical components that make up synthetic marijuana. The DEA has joined in on the crackdown against synthetic pot, which has been available for purchase at gas stations and head shops throughout Florida. Why the ban? It seems the health risks associated with the chemicals found in fake pot pose a far greater health risk to users than originally thought. Some studies suggest that using synthetic marijuana can lead to acute psychosis, hallucinations, worsening of psychotic disorders and heart dysrhythmia.

Due to the crackdowns and bans surrounding synthetic marijuana, it is essential to have a Florida Drug Crimes Defense Lawyer on your side if you have been arrested for selling, possessing or manufacturing the drug. At Whittel & Melton, we can explain the charges against you and advise you of your best options. It is important to understand that any type of drug conviction can be detrimental to your record and future. We are fully aware of the new synthetic marijuana laws and expect to see more lab raids and arrests made by police throughout the state in the next few months.
If you or someone you love is under investigation for a drug crime, or has been arrested and charged with a drug offense in Florida, contact the Florida Drug Crimes Defense Lawyers at Whittel & Melton online or call our Pasco County office at 727-847-2299 or reach us statewide and toll-free at 1-866-608-5LAW (5529).