Investigators claim they discovered hundreds of thousands of dollars in marijuana from seven grow houses in Pasco County after they stopped by to check out claims of electric theft.
According to reports, the Pasco County Sheriff's Office said they were alerted to the seven houses by officials with Withlacoochee River Electric Cooperative after the company learned that more than $206,000 worth of power had been stolen over the course of the past two weeks.
When investigators got to each home, they allegedly found elaborate marijuana grow operations. The sheriff's office believes the grow houses are the work of of an organized crime ring because the wiring installed to steal the electricity at each home appears to be the same.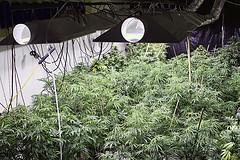 As of now, only one arrest has been made. A 50-year-old Port Richey man has been charged with trafficking and cultivating marijuana and theft of utilities. Police anticipate more arrests as the investigation continues to unfold.
While the manufacturing of marijuana may not take place in a laboratory the same way many drugs like methamphetamines are produced, the cultivation of marijuana is a very serious offense in the state of Florida. Due to its Schedule I classification as an illegal substance, arrests stemming from marijuana-related offenses will generally result in felony charges.
If you have been charged with or have been arrested for or accused of growing marijuana, you are probably feeling extremely scared and under intense pressure. Consulting with a Pasco County Drug Crimes Defense Lawyer at Whittel & Melton could help alleviate some of your stress, and at the same time provide you with a plan of action to make it through the legal process without suffering life-altering consequences.
If you have been charged with operating a marijuana grow house or another type of marijuana-related offense, a Pasco County Drug Crimes Lawyer at Whittel & Melton stands ready to handle your case. As former prosecutors, we can help you fight the harsh ramifications that usually accompany a drug crime conviction in New Port Richey, Dade City, Zephyrhills, Land O'Lakes, Hudson, Holiday, Lutz, Trinity, Wesley Chapel, and the surrounding areas. Contact us today at 727-847-2299 to schedule your free consultation or contact us online.