Former Saturday Night Live funnyman Chris Kattan received his sentence six months after he was arrested on suspicion of a DUI.
The 43-year-old comedian is required to pay a $500 fine, attend a three-month alcohol program, 104 Narcotics Anonymous classes, and will be on probation for the next three years, according to reports. Moreover, he is banned from driving with any drugs in his system, unless he has a valid prescription, and has been ordered to participate in the Hospital and Morgue Program, which is designed to show people the potential tragic consequences of their reckless behavior.
The Night at the Roxbury star was arrested in mid-February early in the morning after he crashed his Mercedes into a Department of Transportation vehicle that was parked on the side of a Los Angeles freeway doing maintenance work. While no one was injured in the accident, Kattan did fail a field sobriety test and was arrested and booked into the Van Nuys jail. He was released a short time later on a $15,000 bond.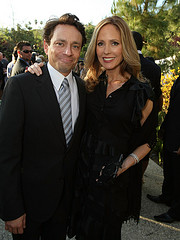 Since receiving his sentence, Kattan has not commented on the incident.
The case is not completely settled just yet. Next month, a restitution hearing will be held to determine how much money Kattan owes the state for damage to the truck he hit.
DUI charges for driving under the influence of drugs are usually treated just the same as DUI charges stemming from alcohol use. There is one difference between the two, which is how police measure impairment. For an alcohol-related DUI, police usually measure a driver's blood alcohol concentration using a Breathalyzer device or blood test and then compare the results to the legal limit, 0.08 percent. For a drug-related DUI, the methods law enforcement uses to determine impairment is much more subjective.
Police commonly rely on observations made during field sobriety tests, which allows an officer to observe a suspected DUI driver's attention level, state of mind, balance, physical ability and other factors that the officer then will use to decide whether the suspect is impaired. While the presence of drugs can be found using blood tests, the existence of drugs in a person's blood stream may not solely be an indicator that a person was driving under the influence of the substance.
If you have been arrested for drug use or for drugged driving, you will need the help of a criminal defense lawyer. A Florida Drug Crimes Defense Lawyer at Whittel & Melton can evaluate your case free of charge and assess what can be done to help you defeat these charges. Call us today statewide and toll-free at 866-608-5529 or contact us online.