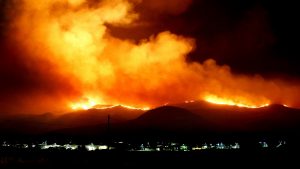 While no one will serve prison time, California utility Pacific Gas and Electric Company was found guilty Tuesday of starting the deadliest fire in California's history that resulted in 84 unnecessary deaths, known as the 2018 Camp Fire. 
The Butte County District Attorney said this verdict is a "historic" one that will serve as a reminder that corporations will be held accountable for negligently endangering human lives. 
The 84 counts involuntary manslaughter the company pleaded guilty to as well as the 1 count of starting the wildfire, is one aspect of how the company is being held responsible for 84 people burning to death. 
Survivors testified Wednesday to relive their losses and grief. 
The town of Paradise in Butte County, California was destroyed by the fire and PG&E is the first company to face charges of homicide from a reckless act like this. 
Court documents indicate that the company will not face fines larger than $3,486,950, and will also be required to pay back $500,000 to the Butte County District Attorney's Office for all investigation costs into the fire. 
According to a plea agreement, PG&E will establish a trust of $13.5 billion to compensate victims of the wildfire. They are also required to cooperate with the prosecutors' investigation and pay hundreds of millions to the town of Paradise and Butte County. 
Records show that PG&E has waived their rights to appeal the case.
PG&E Corporation CEO and President Bill Johnson vowed in court to never place profits above people's safety ever again. He said his company is taking ownership of the devastation they caused and hopes the measures taken provide victims and their families peace. 
The California Department of Forestry and Fire Protection PG&E's electrical lines started the wildfire on November 8, 2018. Cal Fire also said that other factors caused the fire to spread rapidly. 
PG&E filed for bankruptcy in March, resulting in a complete restructure of the company and its finances. 
This is certainly a landmark case that will set forth new guidelines for corporation's being held criminally and civilly responsible for any reckless actions. 
In court, each victim's name was read aloud, and PG&E Corporation CEO and President Bill Johnson responded with "Guilty, your honor." 
The company has said they are taking every measure possible to prevent a tragedy like this from ever happening again. 
This case brings up the criminal act of arson, defined as destroyed property through fire or explosion. The crime of arson is extremely serious and should never be shrugged off. In the state of Florida, first-degree arson carries penalties of up to 30 years in prison, regardless of whether anyone was harmed in the fire. A conviction for Second-degree arson can result in 15 years in prison, and that time could increase if someone is injured or killed in the fire. 
When it comes to defending arson crimes, lack of intent and mistake are all viable defenses. A crime of this magnitude demands the help of a skilled criminal defense lawyer. Our Florida Criminal Defense Attorneys at Whittel & Melton are here to help you through this difficult time. 
You want to take arson charges seriously and address them head on. We can investigate the case, including all the evidence, to make sure we prepare the best possible defense on your behalf. Arson is a felony, so these charges can be life-changing and impact your future. 
Our Florida Criminal Defense Attorneys at Whittel & Melton want to make sure your rights are protected through every step of the legal process. You deserve a strong defense, and we are here to provide that, which means your charges could be lessened or dropped entirely. While we cannot guarantee any results as every case is unique in its own way, we can offer our aggressive legal support and counsel. If you would like to arrange a free consultation to discuss your criminal matter, we are available 24/7.