The Polk County Sheriff's Office arrested nine people and seized almost 100 pounds of marijuana in a large-scale marijuana operation, according to reports.
Two different marijuana grow houses were broken up, including one operated by a 40-year-old Lake Wales man.
The man is allegedly responsible for six grow houses in the Lake Wales and Frostproof areas. The operation took in millions of dollars a year, officials said.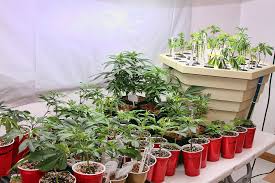 On Tuesday, the sheriff's office revealed some evidence they had collected, including a gun, bulletproof vest and a large bag of marijuana. The operation resulted in the seizure of 96 pounds of marijuana and 70 marijuana plants, marijuana cultivation equipment, cash and vehicles.
Officials believe that most of the pot grown in the operation was shipped to the Northeast.
Polk deputies also busted a grow house in Poinciana on Monday, but officials have not yet reported whether the two busts are connected.
In Florida, manufacturing marijuana or cannabis is classified as a felony. Additionally, under the Marijuana Grow House Eradication Act, it is illegal to own or rent a home for the sole purpose of growing marijuana or housing marijuana plants. Depending on the size of the grow house operation and whether or not children are living in the home, convictions for this offense can range anywhere from 5 to 30 years in prison.
A Polk County Drug Crimes Defense Attorney at Whittel & Melton can help you if you have been accused of or charged with operating a grow house. We work tirelessly to defend those accused of running or participating in marijuana grow house operations.
We are more than familiar with the tactics police use to bust alleged grow house operations. That is why we never base a defense off of a police report. Instead, we perform our own investigation in order to gather the most accurate facts. If it is found that law enforcement used unlawful means to identify a marijuana operation, did not have probable cause for a search warrant or illegally questioned you, we will aggressively seek to have any evidence suppressed and push for the charges to be reduced or dismissed.
If you or someone you care for is facing marijuana or other drug-related charges, please call a Polk County Drug Crimes Defense Attorney at Whittel & Melton today statewide and toll-free at 866-608-5529 or contact us online for a free consultation.