A pretrial hearing has been scheduled Monday for former New England Patriot and Florida Gator Aaron Hernandez.
His murder trial is set to start next month.
The hearing at Bristol County Superior Court in Fall River will focus on jury issues. Jury selection is scheduled to start Jan. 9.
Hernandez has pleaded not guilty to the June 2013 killing of a semi-professional football player who was dating the sister of Hernandez's fiancee.
Hernandez also has pleaded not guilty in a separate case involving the fatal shootings of two men in 2012 after an encounter at a Boston nightclub.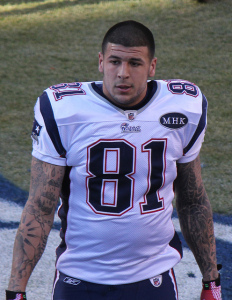 Prosecutors preparing for the murder trial have sought to admit a range of evidence related to Hernandez's other alleged crimes, including the Boston homicides and unlawful possession of firearms.
However, Judge E. Susan Garsh has ruled that prosecutors cannot mention the Boston killings.
The judge also has ruled that prosecutors cannot submit as evidence the final text messages the semi-pro football player sent to his sister, including one sent minutes before he was fatally shot at an industrial park near Attleborough.
Garsh also has ruled that prosecutors cannot introduce the shooting of a former associate of Hernandez who has filed a lawsuit claiming Hernandez shot him in the face after an argument in Florida in 2013.
Courts are usually more inclined to allow previous evidence from other cases when it can be sufficiently connected to the facts of the present case. Admissible evidence of prior criminal acts is always circumstantial, and merely provides support for the prosecution to prove that the defendant could have committed the present act. Due to the fact that this evidence is strictly circumstantial, the purpose is to prove intent, identity or motive.
If you are facing a murder charge, it is important to take control of the situation, before it takes control of you. These charges are quite serious and must be dealt with accordingly. A Florida Criminal Defense Lawyer at Whittel & Melton can provide you with a free initial consultation so that you can fully understand your legal options. Call us today at 866-608-5529 or contact us online. You have nothing to lose, and everything to gain, by calling us. Regardless of how severe the charges are against you, we will make sure your rights are protected.