A South Florida man has been sentenced to nearly two years in federal prison for stealing thousands of dollars in state unemployment insurance.
A federal judge also ordered the 24-year-old Miami man to pay more than $60,000 in restitution last week.
Earlier this year, the man pleaded guilty to aggravated identity theft and other charges.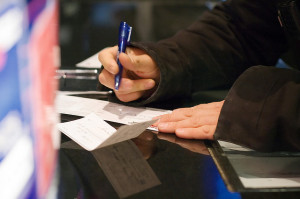 According to court records, the man used computers at his home to access 188 fraudulent unemployment claims. He apparently was able to obtain payments on 23 of those claims for a total of $60,400.
The money was deposited into various bank accounts controlled by the man.
Bank cameras apparently recorded the man taking money out of those accounts.
Florida state law provides for strict rules and procedures when it comes to an individual's ability to obtain unemployment benefits. What this also means is that state prosecutors are quick to jump the gun when they suspect someone is taking advantage of the system. Because prosecutors are prompt when it come to pressing criminal charges the outcomes can often result in  false allegations, improper charges and poorly run investigations.
If you are accused of unemployment fraud, a Miami-Dade County White Collar Criminal Defense Lawyer at Whittel & Melton can help mitigate the damage. If convicted of unemployment fraud, you may be subject to jail time and be required to repay benefits obtained under false pretenses. Our criminal lawyers can put our skills to work for you and aggressively fight to keep you out of jail or possibly keep you free of a criminal record at all.
Unemployment fraud charges can also mean that you could forfeit your right to further unemployment benefits, not to mention the fact that you could serve time behind bars. These charges are serious and must not be ignored. It is very important to act fast so that you can be as proactive as possible when it comes to your defense. To schedule a free consultation with a Miami-Dade Criminal Defense Attorney at Whittel & Melton to discuss your white collar criminal matter, please call us toll-free at 866-608-5529 or contact us online.