A 46-year-old Texas man plead guilty to manufacturing counterfeit Federal Reserve notes, false representation of a Social Security number and aggravated identity theft.
The man faces a maximum penalty of 25 years in federal prison for the counterfeit note and false representation charges, to be followed by a consecutive mandatory minimum of 2 years in federal prison for the aggravated identity theft charge.
According to the plea agreement, on Feb. 2, 2015, the Green Cove Springs Police Department received information that two individuals, one of them later identified as the accused and another man, were manufacturing counterfeit Federal Reserve notes in their hotel room at the Astoria Hotel in Clay County.
The two men apparently had active arrest warrants for parole violations in Texas and were subsequently arrested at the hotel by deputies from the Clay County Sheriff's Office.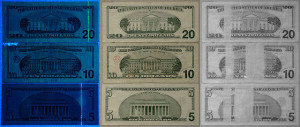 Deputies claim they found a counterfeit $100 note on one of the men after his arrest.
During an interview with law enforcement, the men allegedly disclosed that they were involved in a drug deal in Texas in December 2014 and had been on the run ever since. Police claim they estimated printing and passing at least $10,000 in counterfeit currency. Police also believe they printed counterfeit checks using the identities of others.
Agents claim they located a box of personal identification information and financial documents belonging to other individuals, a printer/scanner/copier with counterfeit checks lying on top of it, counterfeit currency, and various computer media which had been used to manufacture the counterfeit currency during a search of the men's hotel room.
A third man was also charged in the case for passing counterfeit currency.
This case was investigated by the Green Cove Springs Police Department, the Clay County Sheriff's Office, and the United States Secret Service Jacksonville Field Office.
Under federal law, it is illegal to defraud, produce, forge, or alter any "obligation or other security" of the United States, which includes money. Penalties for manufacturing counterfeit currency include fines up to $250,000 and up to 20 years in prison. Similar offenses relating to counterfeiting currency  include distributing, selling, or possessing counterfeit money and possessing counterfeiting tools.
In order to achieve a conviction for counterfeiting, prosecutors must prove that the accused knew about the counterfeit and had the intent to defraud. These are crucial legal elements that a skilled Clay County Criminal Defense Lawyer at Whittel & Melton can attempt to disprove when handling counterfeiting cases. We will work to analyze all evidence surrounding investigations, arrests and allegations to make sure that you have the most powerful defense for the charges stacked against you.
For a free consultation, please call us today at 866-608-5529 or contact us online. We can begin helping you immediately.