Two men were arrested around 3:35 p.m. on Friday after a Volusia County Sheriff's Office deputy positioned along State Road 415, in Osteen, noticed a car go by and observed the passenger not wearing his seat belt.
The deputy stopped the vehicle and remarked that both men seemed nervous. When asked why he was not wearing a seat belt, the passenger, a 42-year-old Deltona man said he was simply too large to wear the belt.
The deputy called a Sheriff's Office drug-detecting K-9 to be brought to the scene. The dog quickly alerted deputies to the presence of drugs. Officer's uncovered cocaine, 23 grams of marijuana hidden under the passenger's stomach fat, a .380-caliber semi-automatic handgun and more than $7,000 in cash stuffed into a tube sock.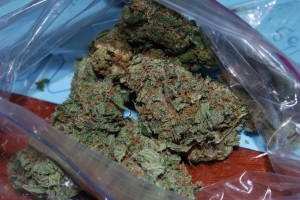 According to deputies, the vehicle's trunk and interior were sprinkled with carpet freshener and scented dryer sheets, which is a common trick used to hide the odor of drugs when they're being transported.
The driver, a 38-year-old Sanford man was arrested and charged with possession of cocaine. The passenger was arrested and charged with possession of marijuana and also was cited for not wearing his seat belt, according to a Volusia County Sheriff's Office release.
The arrests were part of a crime-suppression operation run by the Sheriff's Office targeting crime and traffic enforcement in the Deltona area.
The operation began around 10 a.m. Friday, June 13, and lasted for about 10 hours.
Named Operation Summer Shield, the operation was intended to combat property crimes, illegal drugs and dangerous driving offenses, such as speeding, DUI, running traffic lights and stop signs and reckless driving. The key objective of the operation is to decrease, deter and dislodge crime through aggressive enforcement.
Friday's operation netted 23 arrests and resulted in the issuance of 83 traffic citations and 14 criminal citations. Deputies also conducted 148 traffic stops.
Of the 23 arrests, five were for felony offenses, 16 were for misdemeanor charges and two were the result of open warrants. Some of the other charges included illegal possession of prescription drugs, driving with a suspended license, possession of drug paraphernalia and interference with child custody.
According to deputies, similar operations will be run throughout the summer months.
A drug possession conviction carries serious consequences for one's life, future and career opportunities. Some of the potential penalties for drug possession include imprisonment, substantial fines and the loss of one's driver's license for two years.
Whatever drug you are accused of possessing, a drug crime conviction could be life altering. A Volusia County Drug Crime Defense Lawyer at Whittel & Melton can help fight all types of drug possession charges. We will not only work tirelessly to keep you out of jail, but will strive to achieve a case dismissal, a suspended sentence or even a successful appeal for those convicted of drug possession.
If you need legal assistance for a drug possession charge, please call 866-608-5529 or contact us online to schedule a free, confidential consultation with one of our Volusia County Criminal Defense Attorneys.