A 47-year-old former Miramar police captain convicted of lewd and lascivious conduct for forcing a teenage girl to strip naked in a car to prove she wasn't having sex with her 19-year-old boyfriend was sentenced to four years in prison Friday.
A Broward Circuit Judge later set a $30,000 bond so that the ex-cop could be out of jail while his attorneys appealed his conviction. The man retired a month after his June 2012 arrest. He is ordered to remain under house arrest during his appeal, unable to get a job or leave his home. He is allowed no contact with minors, except for his own teenage stepchildren.
In addition to the prison sentence, the man has been ordered to serve five years of probation as a sex offender following his release.
The judge reprimanded the man before delivering the sentence, claiming he abused his authority as a police officer in order to gape at the exposed body of a 15-year-old girl.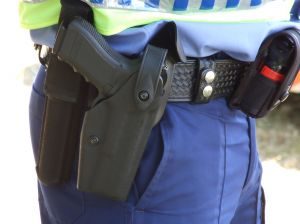 A jury found the man guilty of one count of lewd and lascivious conduct last month.
The ex-police officer apparently approached the girl and her 19-year-old boyfriend as they were making out in a parked car at the Fountains of Miramar on Dykes Road on June 18, 2012. The girl and her boyfriend testified that the man told her to show her genitals and used a flashlight to gawk at her bare body. Broward jurors acquitted the man of another count that accused him of directing the girl to expose her breasts.
The man's defense lawyers argued several key points, including that the incident took place in the middle of the afternoon, that it was never clear whether the accused was the officer involved and that the girl and her boyfriend invented the entire story to cover up their illegal relationship. The boyfriend received immunity from statutory rape charges in exchange for his testimony against the ex-officer.
Jurors sided with the couple's account of the incident.
Family members and supporters of the former police captain gathered into the courtroom on Friday hoping the man would receive a lenient sentence. He faced a maximum of 15 years in prison.
The man's appeal is pending.

A conviction for a sex crime is often more severe than any other type of conviction. A sex crime accusation and conviction can certainly tarnish your reputation and good standing in the community for the rest of your life. With that said, it is important to understand that all sex crimes charges, including lewd and lascivious conduct charges, are extremely diverse. The facts surrounding every sex crimes charge are different, and these details do matter. One of the most critical details is who you choose to represent you in the courtroom. Depending on the accusations made against you, the evidence available in your case and your own actions, a Broward County Criminal Defense Lawyer at Whittel & Melton may be able to help you beat these charges entirely or significantly minimize your potential punishments.
If you or a family member has been accused of or charged with a sex crime, contact us today online or call 561-367-8777. By acting fast, we can immediately begin taking the necessary steps to protect your rights so that you can achieve the best possible outcome for your case.