A former Broward Christian School coach was arrested last month on charges of procuring a minor for prostitution after police claim he organized a meet up between two detectives posing as teenagers and another undercover detective posing as a client.
The 63-year-old West Park man was arrested on Feb. 5. According to Fort Lauderdale police, at the time of his arrest, detectives found more than 300 index cards in his possession with females' first name, descriptions, telephone number and their hobbies.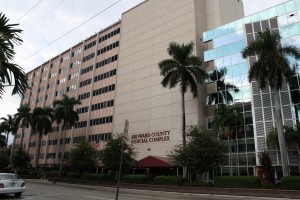 Detectives are not sure how the man knew these women. Police are looking into whether he met some of them when he worked as a teacher and coach at Plantation's Broward Christian School. He has not been employed at the school since 2001.
Police are going through the index cards and contacting everyone at the phone numbers listed.
Fort Lauderdale Police's Human Trafficking Unit began investigating the man in January, after receiving a tip that the man was recruiting young and old females for sex trafficking.
In January, an undercover female detective posing as a 16-year-old apparently received multiple phone calls and text messages from the man. Police claim the conversations were sexually explicit.
Reports indicate that another undercover detective posing as a potential client called the man requesting to have sex with a 15- and 16-year-old. The man allegedly showed pictures to the undercover detective and told him he would arrange a meeting that would cost $200.
The man allegedly arranged for the group to meet at a Fort Lauderdale Dunkin Donuts on Feb. 5. According to the report, the man told the detective "to have fun and go handle your business."
In addition to the charges of procuring a minor for prostitution, he was also charged with unlawful use of a telephone to set up the meeting.
The state of Florida has many regulations when it comes to prostitution, but those that carry the harshest penalties involve children and prostitution. If you or someone you care for has been arrested for or charged with procuring a minor for prostitution or similar charges, you must seek the help of a criminal defense attorney as soon as possible. Not only do these charges carry strict consequences if convicted, but the harsh social stigmas one can face from a guilty verdict can be overwhelming.
Child procurement is a criminal act that falls under the category of sex trafficking, which is quite popular throughout Fort Lauderdale and Broward County. Sex trafficking is punishable by 15 years in state prison, and if sex trafficking involves minors, the penalties increase to 30 years behind bars. Regardless of whether you have been accused of participating, purchasing or selling a child for prostitution, you need a Broward County Sex Crimes Defense Attorney at Whittel & Melton to represent you in criminal court. By contacting us early on in your arrest, we may be able to have the charges against you reduced or dismissed. Contact us today online or call 561-367-8777 or reach us statewide and toll-free at 866-608-5529 for a free consultation.