Polk County Sheriff's Office deputies and undercover detectives conducted a three day county-wide proactive initiative that focused on repeat offenders, drug offenders, offenders on probation and followed up on crime tips and crime trends.
After the three day operation, 101 suspects were arrested and 15 search warrants were served.
Of those detained, 92 are repeat offenders, with a total of 955 prior arrests and more than 1,500 criminal charges.
Deputies and detectives claim they were able to seize $13,378, six firearms, one vehicle, more than two pounds of marijuana and more than three ounces of methamphetamine and 45.1 grams of hydrocodone.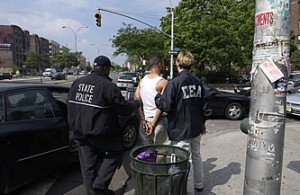 The 101 suspects arrested were charged with 325 offenses, including 180 felonies, 145 misdemeanors, 32 outstanding warrants for 32 felonies and 17 misdemeanors, 5 warrants from other jurisdictions and one fugitive from justice.
Nine of those arrested were currently on probation, and received a violation of probation charge in addition to other charges. According to police, more than 12 of those arrested had active warrants for violating probation.
Reports indicate that 40 of the suspects were receiving public assistance at the time of their arrest, and 32 out of the 101 have served time in prison before.
The investigation focused on Auburndale, Winter Haven, Lake Wales, Eloise, Frostproof and Lakeland areas of Polk County.
The sweep was part of the agency's "Proactive Community Attack on Problems", also known as the "PROCAP" program, that involves collecting daily crime data, studying trends in the data and delivering that information to supervisors and deputies.
When conducting a drug sweep, police usually raid homes and businesses where they believe drug activity is taking place. Numerous people can be arrested in these operations and charged with drug possession or distribution, as well as additional crimes like weapons charges and probation violations. While police may believe that those they are arrest are dealing drugs, many people caught up in these sweeps are innocent bystanders that have no direct connection to the drug trade.