A Clearwater doctor has been accused of writing fraudulent prescriptions in order to obtain the controlled substances for herself, according to police.
The 50-year-old doctor was arrested Monday at a pain management clinic in Clearwater. She has been charged with  two counts of obtaining or attempting to obtain controlled substances by fraud.
The Pinellas County Sheriff's Office claims they began investigating the woman last month after detectives received a tip that the woman was allegedly writing prescriptions for oxycodone using patients' names and filling them for herself.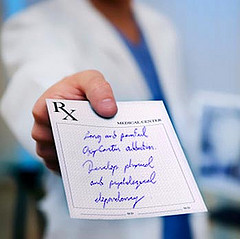 Detectives believe the Tampa Bay area doctor filled those prescriptions at several pharmacies around Pinellas County. Investigators allege that they have surveillance video that displays the woman picking up one of those prescriptions for oxycodone.
The woman was arrested and booked into the Pinellas County Jail without further incident. She was released later in the day after posting $10,000 bail.
The investigation is ongoing, according to police.
Many people that find themselves facing charges of prescription fraud are actually upstanding individuals that had a brief lapse in judgment, became addicted to a prescription after receiving medical treatment or are just being falsely accused. As this case shows, even health professionals like doctors and pharmacists can be slapped with charges of prescription fraud. If you or a loved one has been charged with a prescription drug crime, it is absolutely vital to speak with a Pinellas County Criminal Defense Lawyer at Whittel & Melton immediately.
Doctors, just like unlicensed individuals, can be arrested for prescription fraud. It is illegal for a doctor to write a false prescription, just as it is illegal for anyone else to forge a prescription.
Any prescription drug charge can result in serious consequences. You will need a strong defense to beat these charges. We can challenge the prosecution's evidence and aggressively fight to have your charges reduced or dismissed. Call us today at 727-823-0000 or contact us online to arrange a free consultation.