Former University of Florida Gator and New England Patriots football player Aaron Hernandez was convicted of first-degree murder and sentenced to life in prison Wednesday for the murder of 27-year-old Odin Lloyd.
Hernandez, 25, who once had a $40 million contract and a standout career ahead of him, will now be serving a mandatory sentence of life without parole.
The former football pro was also found guilty on weapons charges. The jury deliberated for 36 hours over seven days before rendering its verdict.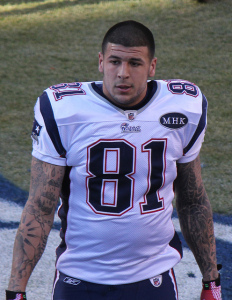 Lloyd was shot six times in the middle of the night on June 17, 2013, in a deserted industrial park near Hernandez's home in North Attleborough.
Police almost immediately began investigating Hernandez because they found a key to a car that the NFL player had rented in Lloyd's pocket. Hours after he was arrested, the Patriots cut the former Pro Bowl athlete, who was considered one of the top tight ends in the NFL.
Prosecutors presented a great amount of evidence during trial that Hernandez was with Lloyd at the time he was killed, including home security video from Hernandez's mansion, witness testimony and cellphone records that tracked Lloyd's movements.
Hernandez's lawyer also acknowledged for the first time during closing arguments that Hernandez was there when Lloyd was killed.
But, Hernandez's attorney told the court that two of Hernandez's friends, Ernest Wallace and Carlos Ortiz, killed Lloyd. Wallace and Ortiz will stand trial later.
The prosecution never offered a motive other than Hernandez appeared angry with Lloyd at a nightclub two nights before the killing.
Hernandez still awaits trial on other murder charges. He is accused of gunning down two men over a spilled drink at a nightclub.
In the Lloyd killing, the defense argued that investigators pinned the murder on Hernandez because of his celebrity status.
Prosecutors believe that Hernandez organized the killing, made his two friends help carry it out and drove Lloyd and the others to the secluded spot in the industrial park. During closing arguments, prosecutors also allege that Hernandez shot the man, though under the law it is not necessary to prove who fired the shots to achieve a conviction.
Security video from inside Hernandez's home showed him holding what appeared to be a gun less than 10 minutes after Lloyd was killed. The surveillance system also showed Hernandez, Wallace and Ortiz hanging out at his home hours after Lloyd was shot.
Hernandez was an All-American out of the University of Florida who was drafted by the Patriots in the fourth round in 2010.
This case does not end with this guilty verdict. There will undoubtedly be an appeal to the Massachusetts Supreme Judicial Court. There are many issues in this case that could be a strong grounds for appeal, including the fact that the judge allowed certain parts of the expert's testimony on the Glock being the murder weapon, but excluded other parts. It could be asserted that the expert's entire testimony was improper. The defense reminded the jury during closing argument that the expert's testimony had been struck from evidence and should be disregarded. Because of the defense's reference to this testimony during closing, it could be argued that asking the jury to ignore such incriminating evidence was unfairly prejudicial, which in turn would warrant a new trial.
It will most definitely be interesting to see how an appeal plays out for Hernandez.
If you or someone you love is facing murder charges in Florida, or has already been convicted of murder, a Florida Criminal Defense Lawyer at Whittel & Melton can help you through this complex legal process. We stand ready to advise you if you have been charged with such a serious criminal offense. If you have been charged with murder, please contact us today for a consultation. You can reach us 24/7 by calling 866-608-5529. Our criminal defense lawyers, staff and assistants are ready to assist in your defense.