Police believe a 65-year-old man used rented trucks to steal nearly 450 pallets of brick paver stones, worth an estimated $200,000, from Flagstone Pavers.
Brooksville investigators arrested the man on a felony grand theft charge resulting from a six week investigation into the missing pavers.
The company claims they never knew the pavers were missing until early February when an operator received an anonymous call from a woman who said that '54 pallets of their pavers had been stolen and brought to a warehouse' in Pasco County, according to reports.
A detective was able to get to the scene before the pavers were dispersed.
Police claim that what they thought were just 54 pallets of product turned out to be 450 stolen pallets.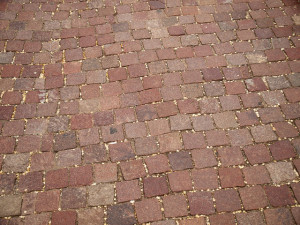 The detective claims to have questioned the man who allegedly told him that he buys products from various locations. The detective said he asked the man for receipts, and the man apparently requested to speak with his lawyer.
Police claim the man had rented Penske trucks nine times for a total of 25 trucks to make multiple trips from Brooksville to Port Richey.
Police allege that from November to February, the man and a crew would load pallets into those trucks overnight and then drive them back and unload them at the warehouse, which is owned by the man's son.
Police reported that they do not plan to arrest any of the crew members because they did not know what they were doing was illegal.
Police are investigating if an employee inside the plant was helping to facilitate the heist.
In the state of Florida, theft offenses are classified as both misdemeanors and felonies. In general, the determining factor of whether charges are a misdemeanor or felony revolve around the amount of money taken or the value of the item or items. In most cases, a theft involving $300 or more is classified as a felony. However, there are instances when a theft offense of a lower amount can become a felony due to a person's prior record of theft-related offenses.
If you have been accused of or charged with grand theft or any other type of felony theft-related offense in Spring Hill or Brooksville, our Hernando County Criminal Defense Lawyers at Whittel & Melton can help you understand the charges against you and the consequences of a conviction. Together we can assess your unique case and decide on the best course of action. For a free consultation to discuss your criminal charges, please call us today at 352-666-2121 or contact us online.