Police are under investigation for jokingly filing in a witness statement in the name of a force dog.
Officers in the UK became exasperated when prosecutors asked for an account of a crime from a "PC Peach'" not realizing Peach was the name of a police dog. So they completed the form as if it had been written by the K-9, and signed it with a paw print.
The dog's statement read: 'I chase him. I bite him. Bad man. He tasty. Good boy. Good boy Peach.'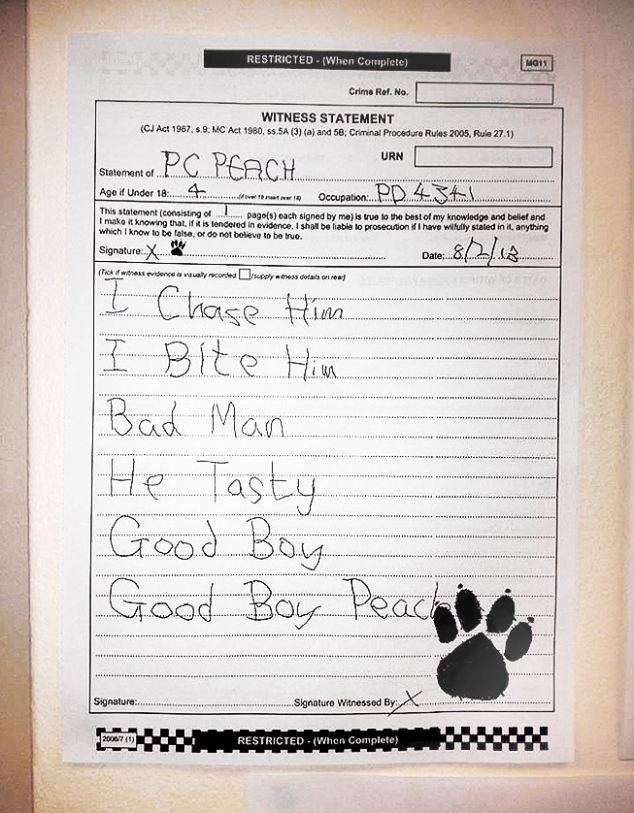 Peach's statement has gone viral on both cop humor pages on Facebook as well as Twitter, where it was retweeted over 150 times.
The prosecution, who usually works hand-in-hand with the police, did not find the prank as amusing, asking for an internal affairs investigation. It is unlikely that the officer involved will be penalized for this prank.
Joking aside, being charged with a crime is no laughing matter. The government has vast resources to not only investigate and target suspects, but to follow through with prosecution– many times demanding prison time even in exchange for a guilty plea. The stakes are high; this is why it is important to have zealous Florida Criminal Defense Attorney fighting for your rights. At Whittel & Melton, our attorneys are all former prosecutors who know how the beat the prosecution at their own game.
We have represented clients charged with State and Federal drug charges, including: Drug Possession, Drug Cultivation, Drug Production, Drug Manufacturing, Grow House cases, Drug Trafficking, Intent to Distribute Drugs, Drug Distribution, Intent to Sell Drugs, Drug Sale or Drug Purchase and Obtaining Controlled Substance by Fraud. Due to our constant legal involvement in these types of drug arrests we are also prepared to defend your rights against any Asset Forfeiture or Asset Seizure by the government.
Our Florida Criminal Lawyers also handle all phases of Florida State and Federal economic or White Collar Criminal allegations including Fraud and Financial Crimes, Bank Fraud, Worthless check and Insurance Fraud, Money Laundering, Racketeering & RICO, Public Corruption, Arson, as well as the gamut of Florida Gun crimes. In addition, our Florida criminal law firm has experience handling more rare crimes such as Animal Abuse; Computer or Cyber Crimes, Child Pornography; and Manslaughter and Murder.
If you or a loved one has been charged with a crime, contact us online or call 1-866-608-5LAW (5529) to discuss your case with an attorney.