A Gainesville doctor who was under federal investigation for years has been charged with 210 counts of health care fraud and money laundering.
The 57-year-old is accused of submitting fraudulent claims for needless tests, buying drugs from outside the U.S. that are not permitted for use here and providing those drugs to patients without their knowledge or consent, according to a news release from the U.S. Department of Justice.
The incidents allegedly occurred at a clinic she owned in Hawthorne from 1998 to 2009 and at a clinic on Northwest 16th Avenue in Gainesville from 2010 to 2013.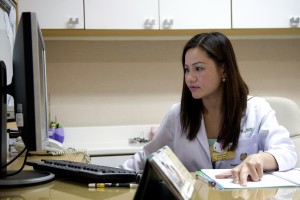 The woman surrendered on Tuesday and entered a plea of not guilty, according to reports. Her trial is scheduled for June 14.
The woman faces up to 10 years in prison for each of the health care fraud counts, up to three years for each of the Federal Drug Administration counts and up to 10 years on each of the money laundering counts.
Prosecutors allege that the woman submitted fraudulent claims to insurance companies for unnecessary medical procedures and services that were not actually performed or provided. According to reports, the claims were submitted to Medicare, Medicaid and Blue Cross Blue Shield of Florida.
The woman is accused of using some of the money from fraudulent claims to buy non-FDA-approved drugs and devices from outside the U.S., and submitted fraudulent claims for the dispensation of the drugs. Prosecutors also allege that she gave these drugs to patients without their knowledge.
Several state and federal agencies were involved in the investigation that led to the woman's indictment.
The woman apparently closed her clinic in January 2013 because the investigation tarnished her reputation and wrecked her financially.
Reports indicate that the woman donated all of her medical equipment to a children's hospital in Guatemala and has been volunteering for various local programs since her officer closed its doors.
If you are under investigation for federal health care fraud charges, you must take swift action and protect yourself by consulting with a federal criminal defense attorney as soon as possible. The sooner you enlist legal help, the more likely your lawyer can put a stop to further investigations and possibly prevent charges from ever being filed.
Health care fraud charges often arise from the following:
Kickbacks
Fraudulent Billing for Medical Services
Up-coding Medical Treatments or Services
Fraudulent Billing for Medications or Medical Equipment
A conviction for health care fraud carries extremely serious consequences. Not only do you face prison time and substantial fines, but you also risk losing everything you have worked so hard for, including any professional licenses or certifications that you hold as a medical provider.
If you are facing serious charges stemming from a health care fraud investigation, please call an Alachua County Criminal Defense Lawyer at Whittel & Melton today at 352-264-7800 or contact us online for a free initial consultation. These cases are generally highly complex and a strong defense against these charges requires significant investigation. We are prepared to help you fight these challenging charges so that you do not lose your right to practice in the medical field.