Loretta E. Lynch was announced as the new U.S. attorney general Thursday, with the Senate voting 56 to 43 to confirm the veteran New York prosecutor five months after President Obama submitted her nomination to Congress.
According to the Justice Department, Lynch is expected to be sworn in as the nation's 83rd attorney general Monday.
Obama released a statement saying that "America will be better off" with Lynch in charge of the Justice Department. "She will bring to bear her experience as a tough, independent, and well-respected prosecutor on key, bipartisan priorities like criminal justice reform," he said.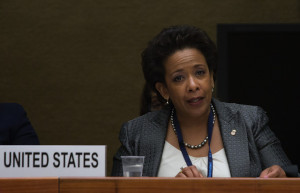 Lynch is the first African American woman to be nominated for the post, which has taken on a much higher profile than in the past due to the leading role the Justice Department has recently played in the debate over race and policing across the country.
The time Lynch had to wait between nomination and confirmation was the longest for an attorney general nominee in 31 years. With it all said and done, the confirmation vote margin was wider than expected: Ten Republicans joined the Senate's 44 Democrats and two independents in supporting Lynch. Forty-three senators, all Republicans, were opposed.
Attorney General Eric H. Holder Jr., stepping down after more than six years, said Lynch would be "an outstanding attorney general, a dedicated guardian of the Constitution, and a devoted champion of all those whom the law protects and empowers."
Obama called the slow and final vote to confirm Lynch as "embarrassing" last week.
Obama nominated Lynch, 55, in November to replace Holder. The Senate, then under Democratic control, did not act on the nomination. Rather, they chose to spend time in the lame-duck session on judicial appointments that party leaders believed would stall in a Republican-controlled Senate.
The thinking was that a Republican Senate would not take its time in confirming a replacement for Holder, a frequent target of Republican enmity. However, that was not the case, especially after Lynch became involved in a deep partisan rift over Obama's immigration policy.
During questioning before the Senate Judiciary Committee in late January, Lynch said she believed Obama's executive actions on immigration last year passed legal and constitutional muster, angering Republicans who considered them an overreach.
Republicans reactions to this was that Lynch was publicly committed to denigrating Congress, and that they could expect to see a great abuse of power by her.
After the January hearing, it took nearly a month for the panel to advance Lynch's nomination, and then the nomination became caught up in an unrelated political dispute over a bill to combat sex trafficking.
Last week President Obama released this statement: "It's gone too far. Enough. Enough. Call Loretta Lynch for a vote. Get her confirmed. Put her in place. Let her do her job."
On Thursday, senators voted on final confirmation around 2 p.m.
The Senate voted 56–43 in favor of Lynch, approving her with help of 10 Republican senators, including Sens. Kelly Ayotte (N.H.), Thad Cochran (Miss.), Susan Collins (Maine), Jeff Flake (Ariz.), Lindsey Graham (S.C.), Orrin Hatch (Utah), Ron Johnson (Wis.), Mark Kirk (Ill.), Rob Portman (R-Ohio) and Senate Majority Leader Mitch McConnell (R-Ky.).
Lynch, the daughter of a North Carolina civil rights leader and a child of the segregated South, has signaled that she plans to approach the nationwide debate over police tactics. Improving police morale and finding common ground between law enforcement and minority communities will be among her top priorities.
Lynch told Congress and Justice Department officials that she plans to do more to combat the selling of people into slavery and prostitution, also known as human trafficking. As the top federal prosecutor in Brooklyn, Lynch has built one of the nation's premier programs to fight human and sex trafficking crimes.
Our experienced Florida Criminal Defense Attorneys at Whittel & Melton are ready to consult, defend and vindicate clients charged with federal crimes throughout the state of Florida. Call us today at 866-608-5529 or contact us online.