A Manatee High School quarterback was arrested Monday night and is facing charges of lewd and lascivious battery on a 15-year-old girl.
According to the Manatee County Sheriff's Office, the 17-year-old was arrested at 8:13 p.m. Monday. The girl apparently  reported the alleged incident to law enforcement earlier that day.
Investigators believe that the teen and the alleged victim attended a party Saturday where they both drank alcoholic beverages. The two apparently began kissing and the girl claims she told the boy to stop, according to a sheriff's office report.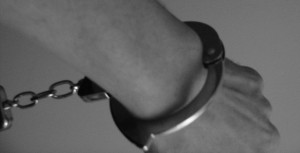 The report states that the teen grabbed the alleged victim, pulled her into the bathroom, turned off the lights and locked the door. Once inside the bathroom, the girl claims that the boy tried taking her pants off but she asked him to stop.
Following his arrest, the teen allegedly admitted to having some sexual contact with the girl but denied raping her, according to the sheriff's office.
According to a Manatee County school district spokesman, the teen will be re-assigned to an alternative school until this matter is resolved. School district officials will cooperate with law enforcement's investigation, but will make no comments until the case is settled.
This teen's arrest comes just a year after unprecedented legal scrutiny involving Manatee High School athletics.
A former running backs coach is scheduled for trial on June 2 involving one of seven misdemeanor charges of battery involving former female students and school employees as well as three misdemeanor charges of interfering with a student's attendance. He has pleaded not guilty and will receive separate trials for the charges.
Former Manatee High School principal and former assistant principals are all facing charges of failure to report child abuse in the same case involving the former coach.
Lewd and lascivious battery cases are rarely witnessed first-hand by anyone other than the alleged victim and the accused, so the prosecution usually relies on circumstantial evidence and unreliable accusations of the victim. In many cases, these allegations are exaggerated or completely fabricated. When these cases involve a juvenile that is accused of touching another minor in an inappropriate way they are usually tried in juvenile court. However, depending on the age of the accused, the State Attorney's Office could very well file these charges in adult court. Due to the serious nature of these charges and the severe potential consequences, parents should never allow their child to discuss these allegations with anyone, including prosecutors and law enforcement, before obtaining experienced legal representation.
In Florida, lewd and lascivious battery is a second-degree felony punishable by up to 15 years in prison when the accused is 18 years old and the alleged victim is between the ages of 12 and 15. When a juvenile who is less than 18 years old is charged with lewd and lascivious battery and the alleged victim is between the ages of 12 and 15, then the crime can be charged as a third-degree felony punishable by 5 years in state prison. Any person convicted of this crime would be declared sexual offender and be forced to comply with sexual offender registration laws in Florida and throughout the United States.
If you or your child has been accused of a sex crime in Bradenton, Palmetto or the surrounding area, please call a Manatee County Criminal Defense Lawyer at Whittel & Melton at 866-608-5529 to schedule a confidential consultation to discuss your charges. We can make sure you understand the charges you are up against and any possible legal defenses that can be asserted.