Law enforcement agencies from Hendry and Lee counties were sent on a manhunt Thursday after it was reported three teenage boys had allegedly stolen a car from Lee County.
Officials claim the trio took the vehicle on a joyride that eventually ended in Pioneer Plantation in Central Hendry County.
The three young men allegedly drove the vehicle from Lee County to Pioneer Plantation, where they stopped at the Shell Station located at the intersection of Hendry Isles Boulevard and State Road 80. Reports indicate that the trio then attempted to rob another man by putting a gun to his side, demanding money from him.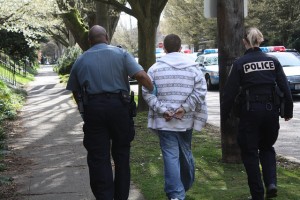 According to police, the victim refused to give up his bank bag and instead grabbed the barrel of the gun. The trigger of the gun was allegedly pulled three times, but failed to fire.
According to the Hendry County Sheriff's Office, the men then ran into a wooded area and were flushed out by K-9 units after a two and a half hour search.
All three suspects were taken into custody. Deputies are still questioning two suspects in the case, but one 17-year-old has been charged with attempted armed robbery, attempted carjacking, possession of a stolen vehicle, aggravated assault with a firearm, destruction/tampering with evidence, petit theft and grand theft.
Several agencies helped with locating the three suspects, including Hendry County deputies and K-9 units, Clewiston Police Department K-9 units, Lee County Sheriff's Office deputies, K-9 units and helicopter, as well as the Florida Highway Patrol.
Juvenile crimes are prosecuted at a very high rate. In the state of Florida and across the country there is an increasing trend for juveniles to be tried in adult court. It is quite common today to see 16 and 17-year-old children being charged as adults.
A robbery charge can bring about serious penalties for a young offender. In the state of Florida, if a person is possession of a firearm when committing a crime or even when attempting to commit a crime, then the 10-20-Life statute can be applied. Anyone convicted under the 10-20-Life statute is ineligible for gain-time and must complete the entire 10 year prison term without the possibility of early release.
If you have a child who is accused of a robbery, armed robbery, or another serious offense in Pioneer Plantation, Clewiston or LaBelle, please contact a Hendry County Juvenile Defense Lawyer at Whittel & Melton. We offer a complimentary case evaluation which can be scheduled by calling us statewide and toll-free at 866-608-5529. Make sure you get the help your child needs to protect their future – contact us today.