On Monday, a former Ocoee city commissioner and local business owner, was arrested on fraud and counterfeiting charges for leading a scheme to sell fake bulletproof vests.
Two of the man's employees were also arrested and charged with fraud and counterfeiting.
Florida Department of Law Enforcement officials claim counterfeit bulletproof vests have been sold online and at gun shows throughout the state by the man's Ocoee-based business.
Fake body armor is usually pieced together with duct tape using old body armor pieces.
Agents allege the vests the man was selling could not stop a bullet. They claim the man placed fake brand-name labels on body armor manufactured at his Ocoee warehouse and sold the items online and at gun shows across the state.
According to agents, the company had its own special line of body armor that when tested, "every round went through it."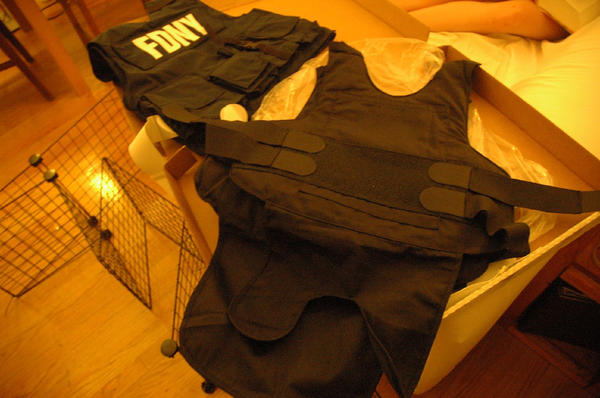 Agents allege that the man has been selling these counterfeit vests for around two years.
FDLE's investigation started in August after someone purchased one of the man's vests at a gun show in West Palm Beach. While the label on the vest did bear the name of a reputable brand, the purchaser was suspicious and took the vest to the manufacturer to confirm the item's authenticity, according to agents.
The company apparently confirmed the item was counterfeit and notified FDLE.
FDLE agents raided the former commissioner's facility on South Cumberland Avenue in early September. Agents allegedly found counterfeit body armor affixed with phony labels from various companies. They claim employees were sewing old pieces of body armor together, sometimes using duct tape, in order to create products that looked brand new.
It is unclear at this time how many alleged counterfeit vests were sold, but agents estimated 10 to 15 a weekend could have been sold at gun shows. The items sold for $600 to $900 each.
The 57-year-old former commissioner and one of his employees were booked into the
Orange County Jail on Monday and released after posting bail. If convicted of fraud and counterfeiting, the pair could face up to 10 years in prison per count.
The man's other employee that was arrested is currently being held in the Pinellas County Jail on unrelated federal gun charges out of Tampa. He is accused of selling unregistered weapons, including a machine gun. Reports indicate he was indicted in August and arrested last month.

Counterfeiting is a form of fraud and occurs when you forge money, clothing, documents, tickets and other goods and represent them as genuine products. Counterfeiting is a criminal offense once you try and defraud another individual by selling the fake product. This is a very serious criminal matter that should not be taken lightly as a conviction carries very harsh penalties.
If you are facing counterfeiting charges in Ocoee or elsewhere in Orange County, understand that you could be tackling both state and federal charges. There are many complex issues that accompany counterfeiting charges, so it is best to consult with an Orange County Criminal Defense Lawyer at Whittel & Melton as soon as possible. Contact us today online or call 561-367-8777 or statewide and toll-free at 866-608-5529 to discuss your case free of charge. We can begin assisting you immediately so that you have a better chance of obtaining a case outcome that is to your advantage.
Photo credit: uberzombie / Foter / CC BY