During the beginning of the war on drugs, young African Americans heard rumors of government involvement in the crack-cocaine explosion that outraged LA's black community. Although it was not openly talked about in the media in the 80's, in 1996, Pulitzer Prize winning journalist Gary Webb published his book, "Dark Alliance," that connected the African American crack-cocaine surge to a thoroughly planned CIA operation. Major news network entities, including The New York Times, Washington Post and Los Angeles Times, attacked Webb's research, ultimately discrediting his work. In December 2004, Webb committed suicide.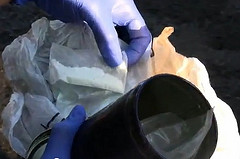 Now, Webb's expose is being further reviewed in a documentary, "Freeway: Crack in the System," which tells the story of "Freeway" Rick Ross, who created a crack empire in LA during the 1980s and is a key figure in Webb's "Dark Alliance" narrative. The documentary is being released following the major motion picture "Kill The Messenger," starring Jeremy Renner in the role of Webb which is now in theatres.  The documentary focuses on key figures in the CIA now stepping forward to tell their stories in a series of interviews with The Huffington Post.
The film not only explores the corrupt foundations of the war on drugs, but also questions the jail sentences the U.S. justice system doled out to a mostly minority population, all while the country's own foreign policy assisted the drug trade.
According to research from The Sentencing Project, in 1980, there were roughly 40,000 drug offenders in U.S. prisons. By 2011, the number of drug offenders serving prison sentences skyrocketed to more than 500,000. It is important to note that most of these offenders are not high-level operators and do not have prior criminal records.
The "War on Drugs" in the United States translates to mean that the federal and Florida drug laws give vast powers to law enforcement and prosecutors, which can end in the overzealous prosecution of even the most minor drug crimes, causing innocent people and first-time offenders to be sentenced to lengthy prison terms. At Whittel & Melton, our Florida Drug Crimes Defense Lawyers work tirelessly to defend clients accused of misdemeanor and felony drug crimes.
The penalties you could face for a drug crime all depend on the type of drug in question as well as the amount of the drug. Our Florida Drug Crimes Defense Attorneys have years of experience handling crimes involving all types of drugs, narcotics and controlled substances, including:
Marijuana
Cocaine
Methamphetamines
Heroin
LSD
Ecstasy
PCP
Prescription Pills
If you are facing a criminal drug arrest in Florida, please contact us today for a free consultation. We can begin helping you immediately, so do not delay. Call us statewide and toll-free at 866-608-5529.