Columbia County detectives served a search warrant on a home in Columbia County on Thursday and allegedly found 73 marijuana plants growing and made three arrests.
Police apparently received a tip about the Fort White home, which they allege was operating as an indoor marijuana grow operation.
Those arrested include a 74-year-old Fort White man, a 45-year-old Tampa man and a 50-year-old Tampa man. All three men arrested were charged with cultivation of marijuana, possession of marijuana of more than 20 grams and possession drug paraphernalia. They were booked into the Columbia County Detention Facility.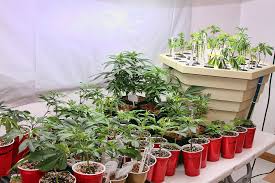 The Drug Task force made the arrests and is comprised of law enforcement personnel from Columbia County Sheriff's Office, Lake City Police Department, Florida Department of Law Enforcement, Drug Enforcement Administration and Bureau of Alcohol, Tobacco, Firearms and Explosives.
Marijuana plants are currently illegal in the State of Florida. However, that does not stop people from transforming their homes into a "grow house." Once police catch wind of an alleged grow house, they quickly start investigating, looking to arrest someone and charge them with various felonies, including possession of marijuana with intent to sell or distribute, possession of more than 20 grams of marijuana, cultivation of cannabis and trafficking in cannabis. Trafficking is the most serious of these charges, requiring 300 or more plants at any stage of growth, and is a first-degree felony carrying a minimum mandatory prison term.
If you know you are being investigated by police, or have already been arrested, you must act fast and obtain the help of a criminal defense lawyer right away. There are steps that can be taken during investigations to prevent police from obtaining further evidence against you. That is why you must not delay, contact a Columbia County Criminal Defense Lawyer at Whittel & Melton today.
Manufacturing marijuana in Florida is a felony. Under the Marijuana Grow House Eradication Act, it is also illegal to own or rent a home for the purpose of growing or possessing marijuana plants. Convictions from grow house charges can vary from five to 30 years in prison depending on the size of the operation and if any children were present in the home.
Regardless of the charges you are up against, you need an aggressive Florida Drug Crimes Defense Lawyer at Whittel & Melton. We specialize in grow houses and illegal marijuana cultivation, and will use every means possible to defend clients who have been accused of operating or participating in marijuana grow operations. For a free initial consultation, please call us toll-free at 866-608-5529 or contact us online.