Police arrested a 56-year-old Miami flight attendant for American Airlines after his vehicle was parked for several days at New York's John F. Kennedy International Airport.
The man's yellow Ford Crown Victoria had expired Florida plates and a sag in the rear, which police believed were explosives.
However, police did not fight explosives in the man's car. Instead, they claim they uncovered stolen UNICEF coins.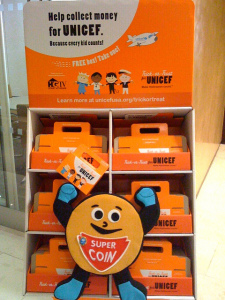 Police believe the man stole coins donated by international passengers to the U.S. Fund for UNICEF, the United Nations' children's charity and a longtime partner of American Airlines.
The man is accused of failing to deliver the donations to UNICEF. Police allege the man stored the coins in plastic bags and suitcases in the trunk of his 2006 Crown Vic, which caused it to sag under the weight of 700 pounds in Euro coins and other foreign currency.
The U.S. value of the coins totals about $5,000, according to Port Authority police.
The man apparently admitted to the theft in interviews with detectives. He was arrested on Jan. 31 and booked on felony charges of grand larceny and criminal possession of stolen property.
The man posted $100,000 bail the next day. He is due back in court on March 24.
In the state of Florida, grand theft, also known as grand larceny, is defined as the unlawful taking of any property that amounts to more than $300 in worth. Crimes of grand theft can be charged as first, second or even third degree felonies depending on the severity of the activity.
If you have been accused of a theft crime, do not wait to speak with a criminal defense lawyer. These charges are serious and the sooner you exercise your right to legal counsel, the better chances you stand of avoiding the full penalties associated with a conviction for a theft crime charge. If you are facing grand theft charges, a Miami Criminal Defense Lawyer at Whittel & Melton can provide you with a strong defense against these charges in court. For a free consultation to discuss how we can help, call us today at 561-367-8777 or contact us online.