Two people were arrested Saturday night after the Brevard County Sheriff's Office uncovered a dog fighting ring in Merritt Island.
Deputies responded to a  Merritt Island home after the Sheriff's Office was tipped off by a concerned citizen who heard what they believed was animal cruelty in progress.
Deputies alleged they found several severely malnourished dogs, as well as a fighting ring and visible blood on the fighting structure and the dogs.
Agents from the Sheriff's Office's Special Investigations units and Brevard County Animal Services responded to the scene where they collected evidence and safely rescued the dogs.
A 41-year-old man and a 32-year-old woman, both of Merritt Island, were arrested.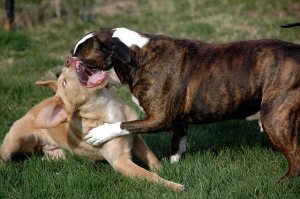 The man was charged with fighting dogs and was taken to the Brevard County Jail, where he's being held on no bond. According to court records, the man is currently on federal probation and has a lengthy violent criminal history, including sexual battery, battery and assault on law enforcement officers, weapons, narcotics and resisting arrest charges.
The woman was charged with cruelty to animals. She was taken to the Brevard County Jail, where she's being held on $500. Records indicate that the woman has a local criminal history, including aggravated child abuse, theft and multiple narcotics charges.
The dogs were seized and taken to the Sheriff's Office's Animal Services Center for emergency medical treatment.
In addition to the dogs, deputies claim they found cash and firearms. The investigation is ongoing.
Florida views animal cruelty charges very seriously and aggressively prosecutes these cases. If you have been arrested and charged with animal cruelty, neglect or any form of animal abuse, you are looking at the very real possibility of jail time and significant monetary fines anywhere from $50 all the way up to $10,000.
Animal cruelty charges encompass inhumanely confining an animal, beating an animal, failing to provide water or food, failing to provide adequate shelter as well as fighting an animal. Fighting an animal is classified as a third-degree felony carrying a 5-year jail sentence.
Animal cruelty and animal fighting cases can be quite complex, however, a Brevard County Criminal Defense Lawyer at Whittel & Melton can review your case and apply the best possible defense for your situation. We will fight aggressively to protect your rights and file motions to suppress all evidence that was taken illegally. For a free consultation, call us today at 866-608-5529 or contact us online.