This Saturday, Tampa Bay will be celebrating the 2014 Gasparilla Pirate Fest. This day-long celebration welcomes the public to partake in a spectacular parade and festival inspired by Jose Gaspar. This annual festival accommodates more than 300,000 people every year, which results in large crowds of rowdy and excited guests.
While a fun time, it is important to remember that as with most things, larger crowds usually means more arrests for various violations. Reports from earlier Gasparilla Parades recount numerous arrests for open container violations, as well as various citations for civil infractions. Arrests for alcohol-related criminal offenses are also very high this weekend, particularly for disorderly conduct, DUI, Boating Under the Influence and underage drinking.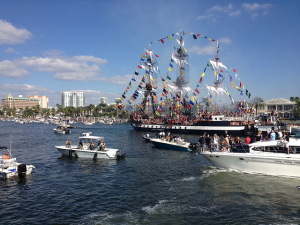 During this Gasparilla weekend, it is very important  to practice safety in order to avoid a potential arrest. It can be quite helpful to prepare your agenda for the day ahead of time and make all necessary arrangements to get home safely at the end of the night. You can protect yourself as well as the safety of others by following the guidelines provided by the City of Tampa.
Plan your day in Advance. Save time by planning where you will park and familiarize yourself will the street closures so that you can map your route there accordingly.
Pick a meeting place for friends and family. By selecting a spot ahead of time, you and the rest of your party can know where to go in the event you get separated.
Know the "Wet Zones." The parade route does allow participants to drink alcohol openly, but only from select vendors selling along the route. Keep in mind that no coolers, kegs or open containers are allowed elsewhere on the streets. Police are stressing that no glass containers of any kind are permitted.
In the event that you are arrested during the Gasparilla parade, it is important to quickly consult a Tampa Bay Criminal Defense Lawyer at Whittel & Melton. We can advise you in regards to your rights, and what you need to do next. Call us right away at 813-221-3200 or statewide and toll-free at 866-608-5529 to schedule an appointment for a free consultation with us. We will be available all weekend should you need assistance.