San Francisco 49ers quarterback Colin Kaepernick is currently being investigated for a possible sexual assault that occurred earlier this month in Miami, according to a report.
Reports indicate that the investigation is in its beginning stages. No charges have been filed yet.
The Special Victims Unit is apparently looking into the allegations.
According to Miami police, they are investigating a "suspicious incident" that also involves 49ers receiver Quinton Patton and Seahawks receiver Ricardo Lockette.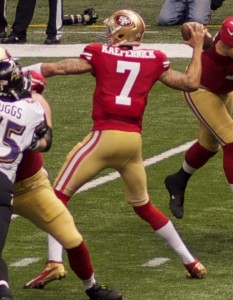 The report alleges that the three players and an unnamed woman were drinking and smoking marijuana from a bong at Lockette's apartment at the Viceroy Hotel on April 1 when the woman, who claims she had a prior sexual relationship with Kaepernick, felt light-headed and went to lie down in a bedroom.
The woman apparently told police that Kaepernick joined her in the bedroom and undressed her, but the two did not have sexual relations. Patton and Lockette allegedly "peeked" into the bedroom and she told them to leave.
The report states that the woman woke up in the hospital the next morning with no further memories from the night before and was unaware of how she ended up in the hospital.
If you or someone you care about is under investigation or has been arrested or charged with sexual assault in Miami-Dade County, a fundamental piece of an effective defense strategy is to hire an experienced criminal lawyer to represent you. A Miami-Dade County Sex Crimes Defense Attorney at Whittel & Melton can investigate every shred of evidence against you and develop a powerful and aggressive line of defense in order to achieve the best possible outcome for your case.
People charged with sexual assault or other types of sex crimes face harsh judgments from the public and the media and must face hostile prosecutors. Unfortunately, most people are quick to jump to conclusions in these cases and are all too willing to believe the worst about those accused of sexually motivated crimes. At Whittel & Melton, we know firsthand that not all people accused of sex offenses are actually guilty of the charges stacked against them. We believe that those accused of sexual offenses deserve a fair trial and the best possible representation.
When it comes to sex crimes cases, the State usually only has one person's word against another's in order to prove its case beyond a reasonable doubt. We understand that these accusations are not just embarrassing, but have the ability to jeopardize your future, freedom and reputation. For a free confidential consultation, please contact us today at 866-608-5529 or contact us online.