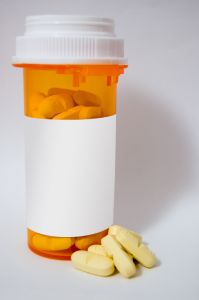 An Orlando doctor accused of hosting wild sex and drug parties at his Hunter's Creek home pleaded guilty to a slew of criminal charges Monday in exchange for 10 years in prison.
The 57-year-old man was arrested in October 2010 by the Metropolitan Bureau of Investigation as part of a crackdown on doctors who were overprescribing highly addictive drugs, such as the painkiller oxycodone.
The MBI claims their initial investigation eventually lead to the doctor being charged with more than a dozen crimes, ranging from racketeering to drug charges to insurance fraud.
Agents allegedly interviewed several women who claim they became addicted to oxycodone after being prescribed the drug by the Orlando physician.
One woman apparently told agents that she was invited to one of the doctor's parties during her third office visit. Another woman alleges the doctor paid her daughter to be videotaped wearing lingerie.
A search of the physician's home apparently yielded more than 1,400 oxycodone tablets, cocaine, handguns, more than $37,000 and an electronic money counter.
The doctor pleaded guilty to several crimes on Monday, including trafficking in oxycodone, purchasing prostitution and patient brokering.
Prosecutors with the State Attorney's office informed the court that the doctor used his practice to purchase oxycodone and other drugs, which he prescribed to women who became addicted.
The doctor is also accused of trying to hide money from law enforcement by transferring money into several different bank accounts.
Without the plea agreement, the physician could have faced 156 years in prison.
Recently, the state of Florida has started pursuing doctors in their efforts to combat prescription drug crimes. In these "pill mill" operations, law enforcement officers focus on investigating physicians they believe are distributing prescriptions to addicts or healthy patients who do not need prescription drugs. In addition to prison time and steep fines, medical professionals charged with prescription drug crimes run the risk of losing their license, careers and reputation.
Physicians and other medical professionals can be slapped with various prescription drug charges as a result of state and federal crackdowns, including:
• Incorrectly Documenting Patient History
• Over-Prescribing Pills
• Not Checking Patient Records for Previous Incidents of "Doctor Shopping"
• Prescribing Unnecessary Medications
As part of the war on drugs, the government prosecutes those believed to be pushing pain pills quite harshly. Trafficking in oxycodone carries severe mandatory minimum prison sentences. While oxycodone trafficking carries a maximum prison term of 30 years, a mandatory minimum sentence can range from 3 to 25 years in prison depending on the amount found in your possession.

If you or someone you love has become the target of a prescription drug investigation anywhere in Florida, the Florida Drug Crimes Defense Attorneys at Whittel & Melton can assist in your defense. By acting fast, we may be able to intervene with the investigation before you are arrested or formally charged with a crime. Contact us online or call us statewide and toll-free at 1-866-608-5LAW (5529).