This Thanksgiving holiday, the U.S. Department of Transportation's National Highway Traffic Safety Administration (NHTSA) and our Florida DUI Defense Lawyers at Whittel & Melton want to remind you to stay safe on the roads. Whether you are travelling a long distance to a relative or friend's house for a Thanksgiving feast, driving home from college to be with your parents and siblings, or just heading down the street to see local friends and family, we want to remind you that Buzzed Driving Is Drunk Driving, regardless of whether it is during a holiday or any other day.
Thanksgiving Sobering Statistics
In 2020, 185 fatalities occurred from drunk driving over the Thanksgiving holiday period (Wednesday, November 25 – Monday, November 30).
From 2016-2020, 821 people were killed in alcohol-related car crashes during the Thanksgiving holiday period (Wednesday before Thanksgiving-Monday after Thanksgiving).
During the 2020 Thanksgiving holiday period, male drivers were found more likely to be involved in DUI-related car accidents than females – males accounted for more than three-quarters of Thanksgiving DUI car accidents. During this same period, more than four times as many drivers involved in DUI car crashes were impaired at nighttime as opposed to daytime.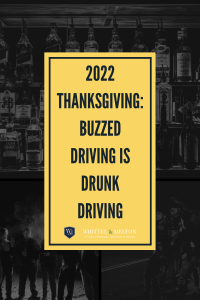 Celebrate Turkey Day with a Plan
It is always a good idea to plan if you know you are going to have a few drinks. Celebrating responsibly does not have to be hard – make sure you know where you are going and have a safe ride home. If you are going to be the designated driver for your group, then take your role seriously and do not consume any alcohol, not even one drink.
Here are a few more reminders to keep your Thanksgiving holiday period, including "Blackout Wednesday," a safe and happy time.
It is never OK to drink and drive. Even if you have had just one alcoholic beverage, get a sober ride home. You can call a taxi, use a rideshare service like Uber or Lyft, or have a sober friend or family member drive you home. AAA will also bring their Tow-To-Go service for the 2022 Thanksgiving Holiday weekend. Starting Wednesday November 23 at 6pm-6am Monday morning, members and non-members can call the AAA Tow-To-Go number 855-2-TOW-2-GO, or 855-286-9246 and get a tow truck to take the impaired driver and their vehicle home or to a safe location (must be within a 10-mile radius of where they were picked up.)
If you see a drunk driver on the road, then you should call 911 immediately.
If you have a friend or relative that is about to drink and drive, then take their keys away and help make the necessary arrangements to get them home safe or create a space for them to sleep it off until they can safely drive home.
Lastly, always remember that buzzed driving is drunk driving.
What To Do if You or a Loved One is Harmed in a DUI Accident this Thanksgiving
If the worst happens during the 2022 Thanksgiving holiday period, and you are involved in a drunk driving crash, then our Florida DUI Injury Lawyers at Whittel & Melton will be available 24/7 to help aide in your best interests. You deserve financial compensation for your injuries, lost time from work, pain, and suffering. After you or a loved one has been harmed in a DUI crash, you should not have to worry about keeping up with medical bills and making sure your family is taken care of. It does not matter if you were injured in a car accident, motorcycle accident, or truck accident – we can help get you the compensation you deserve. You can call us statewide at 866-608-5529 or contact us online to request a free consultation.
From all of us at Whittel & Melton, have a safe and happy Thanksgiving holiday! And please remember, do not drink and drive.