On Wednesday, New Hampshire's highest court ruled that the state infringed the free speech rights of a man who wished to have "COPSLIE" on his license plate.
The state Supreme Court agreed with the arguments of the man in a unanimous decision.
The man said he wanted the vanity plate to protest "government corruption."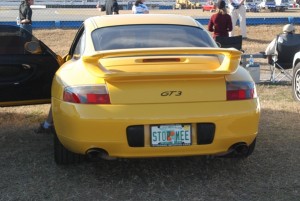 State law bans vanity plates that "a reasonable person would find offensive to good taste." However, the New Hampshire Civil Liberties Union debated that the law is unconstitutionally vague and gives a person behind a Department of Motor Vehicles counter too much power when it comes to making a decision on what can be put on a vanity plate.
New Hampshire contended that state workers were in the right to deny the plate, simply because the phrase mocks police officers.
In November, the high court panel questioned state officials. The crux of the argument seemed to be deciding what exactly "good taste" is.
It was argued that the accusation "COPSLIE" is a viewpoint that should be protected as free speech, and not something that should be controlled and censored by the government.
The man said he chose the vanity plate because he thought police officers who might pull him over and have to type "COPSLIE" into their computers would amount to "the perfect situational irony."
The First Amendment, along with its corresponding state constitutional rights, pungently protects private speech from government regulation. However, when speech occurs on government property, there are specified limitations that the government can place on speech in public forums.
What the New Hampshire Supreme Court decided was that the New Hampshire law was too vague and too broad. Hence their decision to uphold the man's right to have "COPSLIE" displayed on his license plate. While this vanity plate may be offensive to some members of the public, New Hampshire's Supreme Court felt that one DMV employee's opinion should not hold clout when it comes to determining what an acceptable plate is.
Our Florida Trial Lawyers at Whittel & Melton take an aggressive stance on all of our cases from the very beginning, constantly prepping with an eye towards trial. We always work in the best interest of our clients, but we know that in certain cases, presenting a case to a judge or jury is the best way to accomplish a successful outcome for our clients. We proudly represent clients throughout the state of Florida in state and federal court. Call us today statewide and toll-free at 866-608-5529 or contact us online to discuss your case.