A 57-year-old woman was arrested Wednesday after she allegedly smeared dog feces on a neighbor whose pet had defecated in the woman's yard.
The woman was charged with battery on a person 65 years or older and was released Thursday from the Palm Beach County Jail on her own recognizance.
Both the women live at the Woodfield Country Club.
According to an arrest report, the woman's 67-year-old neighbor was walking her dog when the animal defecated on the woman's lawn.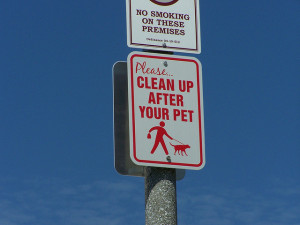 The neighbor told Boca Raton police that the woman came out of the house screaming. The neighbor said she was trying to pick up after her dog with a plastic bag, but stopped when the woman began yelling at her.
The neighbor apparently told the woman to clean it up herself.
The neighbor then claims the woman grabbed a plastic bag, scooped up the feces and ran after her. She then allegedly smeared the feces on the neighbor.
According to reports, when police arrived, the neighbor had feces on her hands and shirt.
The woman told police that her neighbor frequently allows the dog to defecate on her lawn and never attempts to clean it up. The woman did apparently admit to the police that she picked up the feces and "targeted" her neighbor with it.
The woman told police that the neighbor smeared the feces on herself.
In the state of Florida, if battery is committed upon a person that is 65 years old or older, this is classified as battery on an elderly person. Battery on a person 65 years old or older is a felony, punishable by incarceration and can result in a felony conviction on your criminal record.