Prosecutors decided to drop charges against NFL free agent Chris Johnson this week for a January gun arrest in Orlando, according to court records.
The Orange-Osceola State Attorney's Office stated that, "this case is not suitable for prosecution."
The 29-year-old athlete was stopped on the night of Jan. 9 for running a stop sign while driving with a friend, when an Orlando police officer noticed a pistol on the floor between Johnson's feet, according to reports.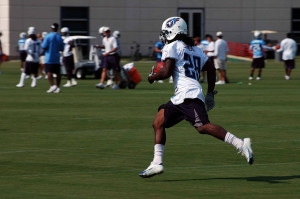 The weapon was apparently a 20-shot Belgian pistol that fires a high-velocity 5.7 mm bullet that can pass through tactical vests worn by police officers. These handguns are legal to own, but police claim that Johnson also had a 9mm Glock pistol in a backpack next to his feet.
Orlando police charged him with open carry of a firearm, but Johnson said he had a valid concealed weapon permit.
Johnson played most recently for the New York Jets and was dropped last season.
Most individuals who are carrying a weapon or firearm on their person do so for protection, and must abide by guidelines of the law. The gun laws in Florida are known for being quite strict, and while these laws can be somewhat confusing, it is very easy for someone who was just trying to protect themselves to wind up on the wrong side of the law.